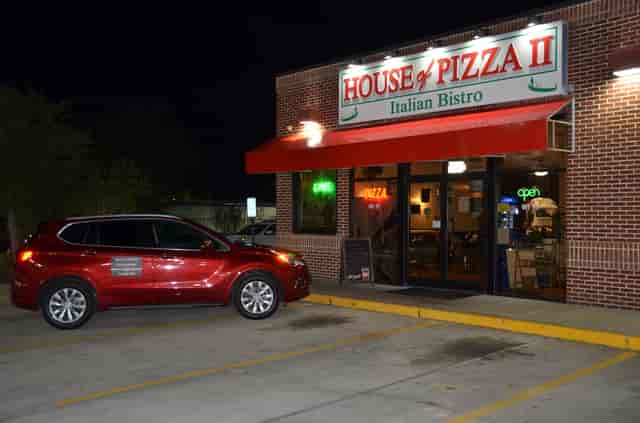 About
About Us
As a family owned and operated business, the House Of Pizza II has built it's reputation on quality service, freshly made food and our large portions. 

Originally from New York, our family and friends have made the restaurant a home away from home. With many years in the Italian food and restaurant business, the owners, friends and staff take a great deal of pride in bringing a touch of home style Italian cooking to Little River. Our menu is extensive with selections from pizza to subs, gyros, pasta dishes and a variety of Italian and American styled offerings. Our lunch specials start at $4.95 and dinner specials are offered every day. A variety of desserts top off our menu with several "local's favorites", NY style cheesecakes and a variety of Italian favorites such as cannoli's, Italian lemon mascarpone cake and home made brownies with Ghirardelli chocolate. 

The entire staff would like to thank everyone for their continued patronage and we look forward to seeing you on your next visit.
About Our Product
Our staff goes the extra mile when purchasing and preparing our meals. All of our burgers and meatballs are made from fresh ground 100% Angus Beef. Our roast beef and corned beef are CAB and slow cooked on site to ensure a quality product. Bread Sticks, Pizza Dough, sauces and salad dressings are also fresh made on site with the finest of ingredients. Our staff hand cuts every chicken cutlet and hand pounds, breads and seasons both our chicken and veal cutlet to order. We purchase direct from the local produce markets each week to ensure the freshest and best produce available. Although our name says pizza, we offer some of the best dinners in town, each specially prepared as ordered. We use only Barilla or DeCecco pasta for our pasta dishes. Our deliveries may take a few extra minutes as we prepare and send out deliveries fresh from the stove or oven – no riding around in the car for an hour! Most important is that we are always trying to improve our service and offerings. Keep watching on Facebook for daily specials and new items offered. This spring (2020) we will be working with local farms and butchers to bring the freshest possible farm to table offerings.